fmScholar Kathryn Gouthro's Rotation in Yellowstone
Thu, 08 Nov 2018 11:28:00 EST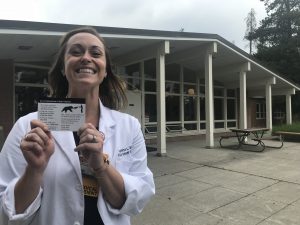 M4 Kathryn Gouthro, a scholar in the fmSTAT track program, recently completed one of the more unconventional medical rotations when she spent a month at the clinics in Yellowstone National Park. For Gouthro, the president of the Class of 2019, it was a homecoming; she grew up inside the park and visited those same clinics for her own medical care. Seeing firsthand how the doctor was a vital part of the Yellowstone community itself spurred her interest in family medicine. It seems a perfect fit, as her supervising physician and Yellowstone medical director Luanne Freer, M'88 noted, "She has this way of connecting with people."

Once she completes a seven-year commitment with the Army after graduation, Gouthro hopes to makes these connections even stronger. "I would love to be a rural family doctor. When you are it – when you are the only person available – you have the opportunity to really become a resource for the people there. You become part of the community, which is really a special thing."

To read more about Kathryn's time in Yellowstone, please see the article here.