MPH fall 2021 application deadline: February 15, 2021
concentrations (Applied Public Health; Epidemiology)
dual programs (MD/MPH; MSW/MPH; PharmD/MPH)
apply now
Master of Public Health program
The Master of Public Health Program prepares students committed to public health careers in either the public, private, or non-profit sectors. Public health works to prevent health problems in populations before these problems occur. The Master of Public Health Program provides a rigorous curriculum to help students develop the analytic and critical reasoning skills to improve population health
Fully accredited by the Council on Education for Public Health, the VCU MPH Program is closely linked with local, state and national public health agencies, organizations, and professionals to enhance the student's appreciation and understanding of the application of public health principles to practice and research. The MPH Program provides students with the skills for employment in a broad range of positions in local, state and national public health agencies as well as private and academic research, depending on the student's selected degree concentration and interests.
The MPH program offers:
Concentrations in:
MD/MPH
MSW/MPH
PharmD/MPH
MPH Program goals:
The MPH program trains students to become well-grounded in the essential knowledge, skills and attitudes of public health and demonstrate their ability to apply these essentials through course work, applied experience, and the MPH capstone project. This program is designed to provide students with the skills required to advance to a broad spectrum of positions as public health practitioners who can perform the following:
Administer public health programs

Collect, analyze and evaluate public health data

Plan, implement and evaluate public health interventions

Apply results of evaluations and data analyses to policy development as necessary

Promote public health through educational campaigns
Destinations of our MPH Graduates
More than 90% of MPH graduates in the last 5 years either were employed within 6 months of graduation or pursuing further study. Typically, more than half of our students find positions in a university or government setting. Usually around one-fifth pursue further education. The remainder find jobs in non-profit organizations, health systems, or private companies. Job placements include:
State or local health department offices (e.g. Virginia, Pennsylvania, Minnesota, New York City) in positions such as district epidemiologist, drug overdose communications coordinator, or city research scientist
University or healthcare systems, as members of research teams, including Virginia Commonwealth University and the University of Virginia
Non-profit organizations—ranging from national organizations such as the American Heart Association to local ones such as Early Impact Virginia, Virginia Healthcare Foundation, and Virginia Health Catalyst
Other governmental organizations such as the Richmond Behavioral Health Authority
Private companies such as Booz Allen Hamilton, The EI Group, or the Lewin group
Fellowships with the Oak Ridge Institute of Science and Education/Centers for Disease Control and Prevention, Department of Health and Human Services, or the Council of State and Territorial Epidemiologists
Some alumni pursue doctoral degrees in epidemiology, psychology, nursing, and more, while others pursue clinical study in medicine, nursing, therapy, or social work.
Program Requirements and Concentrations
Each candidate shall complete a minimum of 45 credit hours towards the degree. This includes core courses in biostatistics, environmental health, epidemiology, health policy, interprofessional collaboration, and social and behavioral health.
The program offers concentrations in (1) applied public health (degree requirements) and (2) epidemiology (degree requirements). In addition to core degree course requirements, each concentration requires a minimum of 9 credits of concentration-specific courses and a minimum of 5 credits of elective courses. All students complete a 180-hour internship at a community-based public health agency or organization and an integrated learning experience, the MPH capstone project.
Applied Experiences
All students must complete a 180-hour public health internship in a non-university, professional public health setting such as the Virginia Department of Health or the Institute for Public Health Innovation. Students must have completed at least 18 credit hours of course work in the program before enrolling in the public health internship.
Students may choose to fulfill one elective course requirement through a second applied experience, the MPH Practicum. For this optional experience, students complete 120 hours and may choose to work at professional public health practice organizations or support work on a faculty research program, according to student interest. In addition, all students are required to complete 20 hours of community-based service-learning.
Capstone Project
The capstone experience is an integrated learning experience designed to synthesize knowledge gained through the classroom and practical processes and is the degree's culminating work. Students typically complete the capstone project during the last one to two semesters of study. Students address multiple MPH program competencies through the work as they synthesize the literature, apply theory, and integrate knowledge gained in situations that approximate some aspect of professional practice. This mentored experience allows students to both broaden their skills and hone their proficiency in a specific area of public health. Examples of typical capstone projects include:
Manuscript suitable for publication in a peer-reviewed journal
Comprehensive disease-related report
Policy analysis report
Health promotion materials (e.g. brochures/posters/fliers, educational video games, web site content, etc.), on a specific disease area
Needs assessment for a specific population
Development, implementation, and analysis of target population surveys
Program evaluation
In fulfilling the capstone requirement, each candidate must: (a) submit a formal written paper of sufficient depth and rigor; and (b) satisfactorily complete an oral or poster presentation of the project chosen as the basis for the written paper at an appropriate venue (e.g. stakeholder meeting, departmental seminar, research forum, etc.) approved by program administration.
Degree Completion and Typical Plan of Study

For full-time students, average time to degree completion is two academic years. For part-time students, average time to completion varies depending on the number of credits completed per semester but ranges from three to five years. Full-time enrollment is defined as registration for 9 or more credits per semester; part-time enrollment is defined as fewer than 9 credits per semester. The program emphasizes completion of core coursework followed by elective coursework.
Please see the curriculum planners for each concentration for detailed information on a typical plan of study.
Additional Information:

Prospective students may obtain information on the following by clicking on the links below:
Application Details
Application information can be found here.
Learn about a student's experience in service-learning, a required element of the MPH program
Directed, written, and edited by Patrick Godette Jr. Submission for VCU MPH Service-Learning Presentation. Images obtained from: Google Images Flickr Creative Commons Fit4Kids VCU ASPiRE Shalom Farms Tricycle Gardens Music by: The Foreign Exchange BBE Records © 2018 Christon Gray Fo Yo Soul Recordings/RCA Records © 2017
YouTube Link
CEPH Accreditation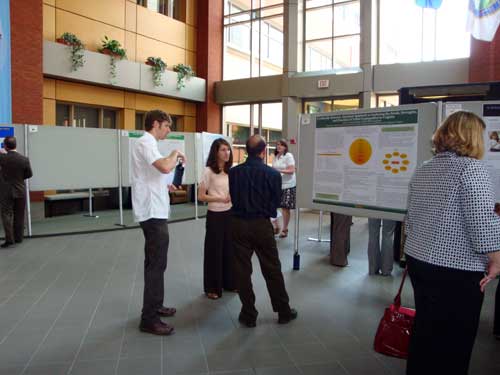 The MPH Program at Virginia Commonwealth University is accredited by the Council on Education for Public Health (CEPH) through December 2022.
To request a copy of the final VCU MPH Program Self-Study Report, please email Lisa Anderson.