Rebecca S. Etz, Ph.D.
Professor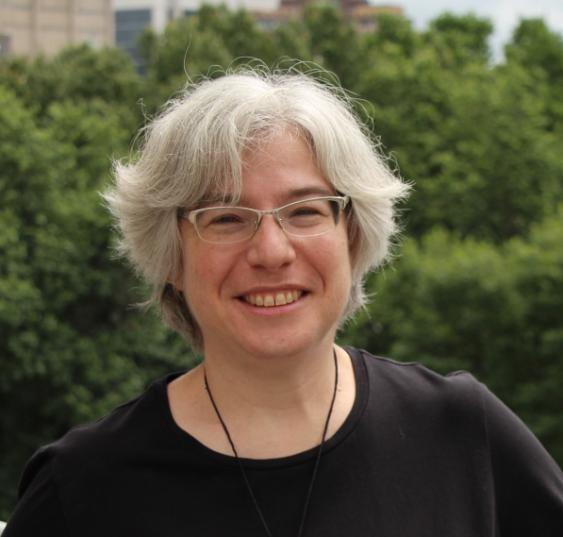 Co-Director, The Larry A. Green Center, Advancing Primary Health Care for the Public Good; Distinguished Fellow, American Board of Family Medicine Foundation
Department: Department of Family Medicine & Population Health
Phone: (804) 827-4995
Email: rebecca.etz@vcuhealth.org
Address/Location:
One Capitol Square, 6th Floor, Room 629
830 E. Main Street
Richmond, VA 23219
Undergraduate Education
BA, Franklin and Marshall College 1993
Graduate Education
PhD, Rutgers, The State University of New Jersey 2004
Post Graduate Education
Health Services Research, Department of Family Medicine, Robert Wood Johnson Medical School 2006 - 2008
Faculty Bio
Rebecca S. Etz, PhD, is a cultural anthropologist, Co-Director of the Larry A. Green Center for the Advancement of Primary Health Care for the Public Good, and an Associate Professor of Family Medicine and Population Health at Virginia Commonwealth University. Dr. Etz has expertise in qualitative research methods and design, primary care measures, theory of family medicine and primary care, practice transformation, and engagement of stakeholders. She has spent the last ten years developing deep national relationships working with practices and policy makers on primary care related measurement, professionalism and vision. Prior work has also included bridging the boundaries between primary care practices, behavioral health, and community resources. Dr. Etz has also held many national leadership positions, including co-director of a large practice-based research network, Board member of the North American Primary Care Research Group, and Board member of the Center for the History of Family Medicine.
Keywords & Interest Areas
Qualitative Research Methods and Design
Quality Measures
Primary Care Transformation
Engaging Stakeholders
Awards & Honors
The Barbara Starfield Primary Care Leadership Award. The Primary Care Collaborative, Washington DC. 12/2020
Primary Care Advocate of the Year Award, Society of Teachers of Family Medicine. 05/2021
Visiting Visionary, The Institute for Integrative Health; Baltimore, MD 09/2019
Levitt Lectureship Guest, University of Colorado-Denver, Health Sciences Center, Denver, Co (7/2008-8/2008). This honor provided for a one-month residence in the Department of Family Medicine and Population Health, consulting with UC-Denver's recent Clinical Translational Science Award and working on community engagement activities. 07/2019
Innovator Abstract Award for Patient Reported Measure National Quality Forum; Washington DC 03/2019
NAPCRG Pearl Award – top research studies that will impact clinical practice. Ten awards received. Chicago, IL 11/2018
ICIMH Citational Award – top percent of research submissions to International Conference on Integrative and Mental Health. Baltimore, MD 05/2018
NAPCRG Travel Award; Brisbane, Aus 03/2017
NAPCRG Pearl Award – top research studies that will impact clinical practice. Two of ten awards received. Colorado Springs, CO 11/2016
Larry Green Visiting Scholar, The Robert Graham Center for Policy Studies in Family Medicine and Primary Care; Washington, DC 06/2016
NAPCRG PBRN Conference David Lanier Top Poster Presentation Award; Bethesda, MD 06/2016
NAPCRG PBRN Conference David Lanier Top Poster Presentation Award; Bethesda, MD 06/2015
President's Faculty Excellence Award, VCU School of Medicine, Richmond, Va (2011-present). This award, given to a new VCU faculty member of great promise, resulted in permanent salary support. 07/2011
Levitt Lectureship Guest, University of Colorado-Denver Health Sciences Center; Denver, CO 07/2008
Larry Green Visiting Scholar, The Robert Graham Center for Policy Studies in Family Medicine and Primary Care, Washington DC (2/2008-3/2008). This competitive one-month position allowed for training in the conduct of policy relevant research while assisting with qualitative research and methods. 02/2008
Who's Who Among America's Teachers 2004
Professional Affiliations
NAPCRG Awards Committee; Member 2017 - Present
Advisory Board Member, Clinical Research in Practice: The Journal of Team Hippocrates 2017 - Present
NAPCRG Primary Care Measures Special Interest Group; Chair 2017 - Present
Center for the History of Family Medicine; Board Member 2014 - 2019
Fellowship Selection Committee; Member 2014 - Present
Member, Practice Core Team, Family Medicine for America's Health 2014 - 2018
Anthropology and Mental Health Interest Group; Founding Member 2013 - Present
Association for the Anthropology of Policy; Founding Member 2012 - Present
Collaborative Family Healthcare Association; Member 2012 - 2016
Society for Teachers of Family Medicine; Member 2011 - 2016
Society for Applied Anthropology; Member 2008 - 2014
Society for Medical Anthropology; Member 2008 - Present
North American Primary Care Research Group; Member, Board Member, (2013-2019) 2006 - Present
American Ethnological Society; Member 1996 - Present
Society of Lesbian and Gay Anthropology; Member 1995 - 2004
Association for Feminist Anthropology; Member 1994 - 2012
American Anthropological Association; Member 1991 - Present
Selected Peer Reviewed Publications:
Li E, Latifovic L, Etz RS, Ramji N, AlHaj M, Reves S, Glazier R, Kiran T. Testing a new comprehensive measure of primary care: How the Person-Centered Primary Care Measure performs in a multi-site primary care practice in Canada. In press JABFM. 2022.
Etz RS, Miller WL, Stange KC. Simple Rules That Guide Generalist and Specialist Care. Fam Med. 2021 Sep;53(8):697-700.
Zyzanski SJ, Gonzalez MM, Stange KC, Etz RS. Measuring Primary Care across 35 OECD Countries. Ann Fam Med. 2021 Nov-Dec; 19(6):547-552.
Bensken W, Dong W, Gullet H, Etz RS, Stange KC. Changing Reasons for Visit to Primary Care of a 35-Year Period. JABFM 2021;34(2):442-448.
Tse ETY, Lam LKC, Wong KHC, Chin WY, Etz RS, Zyzanski SJ, Stange KC. Exploration of the psychometric properties of the Person-Centred Primary Care Measure (PCPCM) in a Chinese primary care population in Hong Kong: a cross-sectional validation study. BMJ Open. 2021 Sep 21;11(9):e052655.
olde Hartman T, Bazemore A, Etz RS, Kassai R, Kidd M, Phillips FL, Roland M, van Boven K, van Weel C, Goodyear-Smith F. Developing Measures to Capture the True Value of Primary Care. 2021. BJGP Open doi:10.3399/BJGPO.2020.0152.
Adepoju LE, Liaw W, Chae M, Ojinnaka C, Britton E, Reves SR, Etz RS. COVID-19 and Telehealth Operations in Texas Primary Care Clinics: Disparities in Medically Underserved Area Clinics. JHCPU 2020. 32(2): 948-957.
Tse ETY, Lam CLK, Wong CKH, Chin WY, Etz RS, Zyzanski SJ, Stange KC. Cultural adaptation and content validity of a Chinese translation of the 'Person-Centered Primary Care Measure': findings from cognitive debriefing. Fam Med Commuity Health. 2020 Sep;8(4):e000621. 2020
Sabo RT, Etz RS, Gonzalez MM, Johnson NJ, O'Neal JP, Kumar A, Crosson. Low-intensity Intervention Supports Diabetes Registry Implamentation: Results from a cluster-randomized trial in the Ambulatory Care Outcomes Research Network. JABFM. 2020. Sep-Oct;33(5):728-735. 2020
Salgado TM, Quinn CS, Krumbach EK, Wenseslao I, Gonzalez MM, Reed HL, Syverson JG, Etz RS, Vangipuram K, Barker MR, Henry NL, Farris KB, Hertz DL. Reporting of paclitaxel-induced peripheral neuropathy symptoms to clinicians among women with breast cancer: a qualitative study. Support Care Cancer. 2020. Support Care Cancer. Sep;28(9):4163-4172. 2020
Gotler RS, Green LA, Etz RS. What 1966 Can Teach Us about the Future of Primary Care: The Case for Communities of Solution. Mil Quarterly. June 10, 2020. https://doi.org/10.1599/mqop.2020.0610 2020
Mui P, Gonzalez MM, Etz RS. What Is the Impact on Rural Area Residents When the Local Physician Leaves? Fam Med. 2020;52(5):352-356. 2020
Wolf ER, O'Neil J, Pecsok J, Etz RS, Opel DJ, Wasserman R, and Krist AH. Caregiver and Clinician Perspectives on Missed Well-Child Visits. Ann Fam Med. 2020 Jan;18(1):30-34. 2020
Winship JM, Ivey CK, Etz RS. Opportunities for Occupational Therapy on a Primary Care Team. Am J Occup Ther. 2019 Sep/Oct73(5):1-10. 01/2010
Etz RS, Gonzalez MM, Crabtree BF, Reves SR, and Stange KC. An Innovative Three-Step Method for Identifying Exemplars. Int J Qual Methods. 2019 Aug 18:1-7. 08/2020
Bailieu R, Kidd MR, Phillips RL, Roland M, Mueller M, Morgan D, Landon B, DeVoe J, Martinez-Bianchi V, Wang H, Etz RS, Koller C, Sachdev N, Jackson J, Jabbarpour Y, Bazemore A. The Primary Care Spend Model: A Systems Approach to Measuring Investment in Primary Care. BMJ Glob Health. 2019 Jul 10;4(4):e001601 07/2020
Etz RS, Zyzanski SJ, Gonzalez MM, Reves SR, O'Neal JP, Stange KC. A New Comprehensive Measure of High-Value Aspects of Primary Care. Ann Fam Med. 2019 May;17(3):221-230. 2019
Editorials, Reviews, Commentaries, and Proceedings:
2016. Etz RS. This is Personal Doctoring. Commentary. Ann Fam Med. 2016 May; onTRACK. 2016
2014. Etz RS. Engaging the Public Through Communities of Solution and Collaborative Empowerment. Discussion Paper, Institute of Medicine, Washington, DC. http://www.iom.edu/Global/Perspectives/2014/EngagingThePublic 2014
Books, Book Chapters, & Monographs:
September 2011. Bell DS, Straus SG, Belson D, Shinvi W, Green DS, Crosson JC, Etz RS, Sagara L, Wallis KA, Eisenman DP. A toolset for e-prescribing implementation in physician offices. Agency for Healthcare Research and Quality U.S. Department of Health and Human Services. 09/2011
2019. Comment on the JAMA Open article by Tonelli et al. Stange KC, Katerndahl D, and Etz RS. 2019
Other Publications:
2020. Etz RS, Advisory Group, Larry A. Green Center. COVID-19 Patient Primary Care Survey, Series 1, fielded May 4-11, 2020. Nonrefereed, online collection only. Permanent. http://hdl.handle.net/2027.42/155448 2027
2020. Etz RS, Advisory Group, Larry A. Green Center. COVID-19 Patient Primary Care Survey, Series 2, fielded May 22-25, 2020. Nonrefereed, online collection only. Permanent. http://hdl.handle.net/2027.42/155558 2027
2020. Etz RS, Advisory Group, Larry A. Green Center. COVID-19 Patient Primary Care Survey, Series 3, fielded June 8, 2020. Nonrefereed, online collection only. Permanent. http://hdl.handle.net/2027.42/155586 2027
2020. Etz RS, Advisory Group, Larry A. Green Center. Quick COVID-19 Primary Care Weekly Survey, Series 1-4, fielded March 13, March 20, March 27, April 4, 2020. Nonrefereed, online collection only. Permanent. http://hdl.handle.net/2027.42/ 154717 2027
2020. Etz RS, Advisory Group, Larry A. Green Center. Quick COVID-19 Primary Care Weekly Survey, Series 5-6, fielded April 16 and 24, 2020. Nonrefereed, online collection only. Permanent. http://hdl.handle.net/2027.42/ 154774 2027
2020. Etz RS, Advisory Group, Larry A. Green Center. Quick COVID-19 Primary Care Weekly Survey, Series 7, fielded May 1, 2020. Nonrefereed, online collection only. Permanent. http://hdl.handle.net/2027.42/154865 2027
2020. Etz RS, Advisory Group, Larry A. Green Center. Quick COVID-19 Primary Care Weekly Survey, Series 8, fielded May 8, 2020. Nonrefereed, online collection only. Permanent. http://hdl.handle.net/2027.42/155024 2027
2020. Etz RS, Advisory Group, Larry A. Green Center. Quick COVID-19 Primary Care Weekly Survey, Series 9, fielded May 15, 2020. Nonrefereed, online collection only. Permanent. http://hdl.handle.net/2027.42/155365 2027
2020. Etz RS, Advisory Group, Larry A. Green Center. Quick COVID-19 Primary Care Weekly Survey, Series 10, fielded May 22, 2020. Nonrefereed, online collection only. Permanent. http://hdl.handle.net/2027.42/155400 2027
2020. Etz RS, Advisory Group, Larry A. Green Center. Quick COVID-19 Primary Care Weekly Survey, Series 11, fielded May 29, 2020. Nonrefereed, online collection only. Permanent. http://hdl.handle.net/2027.42/155447 2027