History
The Department of Family Medicine was established in 1970 by the governor and General Assembly of the commonwealth and charged with the mission of preparing competent family physicians for the people of Virginia, while contributing to the knowledge that improves the quality of care they receive. We have had tremendous success: We have helped train thousands of medical students and approximately 1,400 family medicine residents. Today, almost 1,200 of these individuals are practicing in rural, suburban, and urban Virginia communities and provide care for an estimated 2 million Virginians.

Our mission and scope greatly increased by virtue of our merger with the former Department of Epidemiology and Community Health in February of 2013. This merger reinforced our abiding attention to care in the context of community, and has brought significant new research strength to the effort to improve population health. The merger has added the established graduate programs to our educational mission. It also positions us as potential leaders in the effective integration of primary care and public health – a challenge we gladly accept. Learn about the history of our larger and more comprehensive department.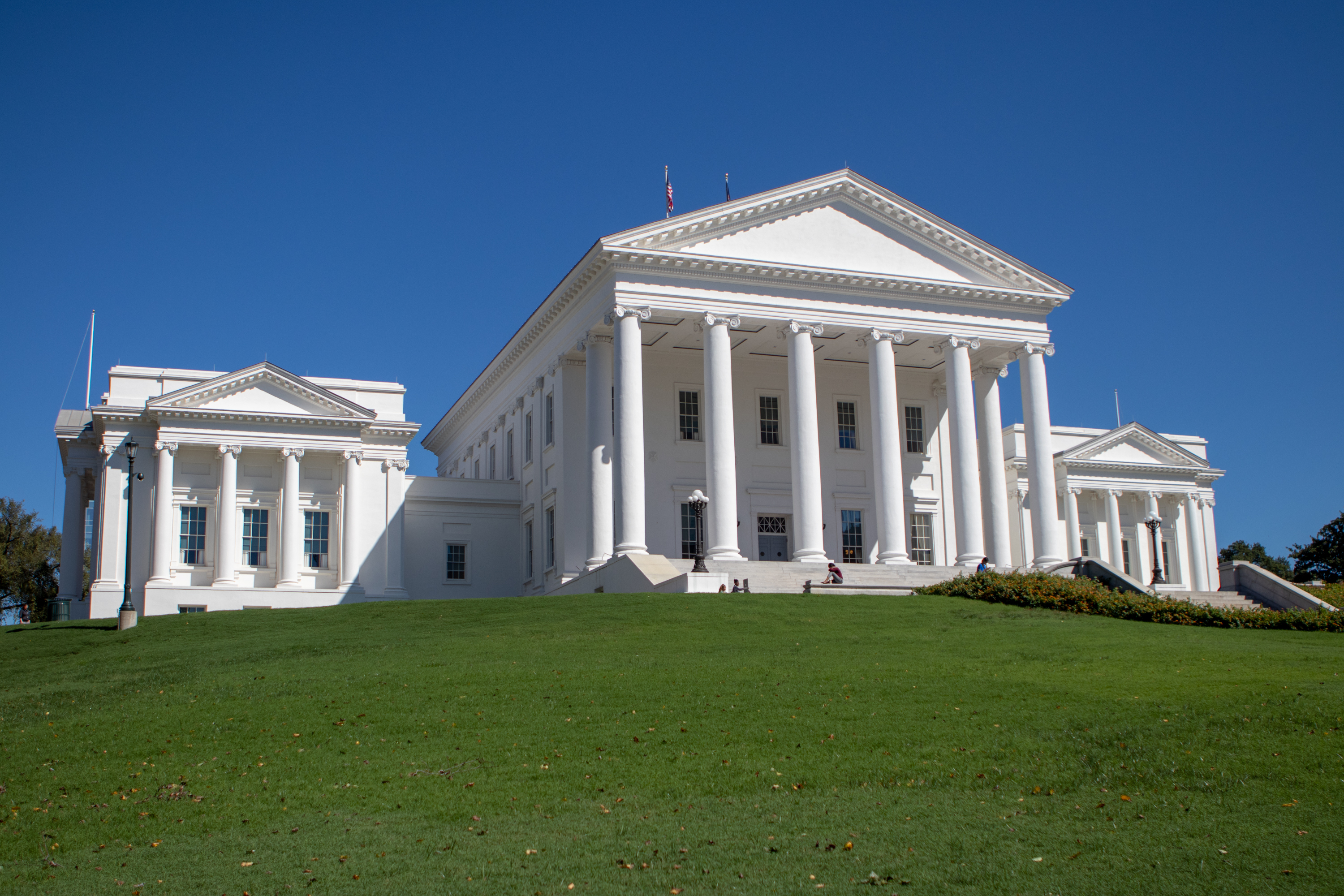 Independent studies of the primary care physician workforce in Virginia conducted in the late 1960s showed that there was already a crisis of access in rural communities and that this would become a statewide problem unless Virginia medical schools focused on producing more primary care physicians. This led then Governor Linwood Holton and the General Assembly to establish line items in the Higher Education Budget to establish Departments of Family Practice (as they were then known) at Virginia Commonwealth University and the University of Virginia. The purpose of the funds was to create both undergraduate and graduate medical education programs to produce family physicians for Virginia, particularly in areas where they were most needed.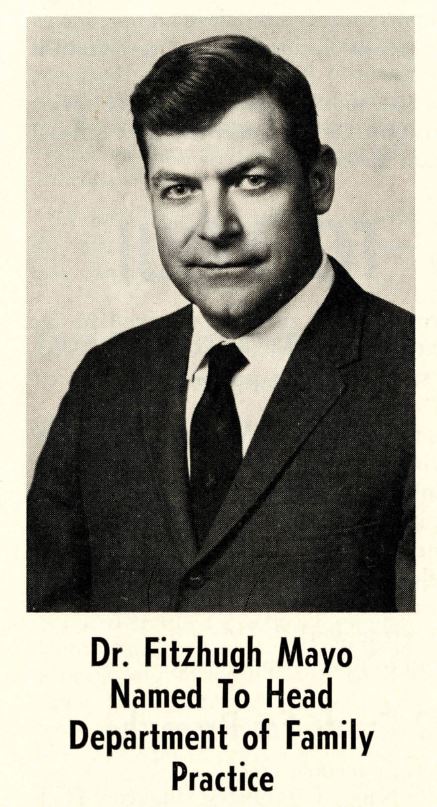 Our Department was established in 1970 and Dean Kinloch Nelson recruited Dr. Fitzhugh Mayo from private practice in Virginia Beach to become the first Department Chair. He in turn recruited Dr. Maurice Wood, a family physician researcher from England, to become our first research director. Dr. David Marsland joined the Department shortly thereafter – he would eventually become the Department's second Chair, serving in an interim capacity from 1987-1989 and a permanent one until 2003.
Dr. Mayo believed that Family Medicine residents are best trained in communities similar to ones where they would eventually practice. He therefore established our residency programs in locations that would likely address not only the needs of rural communities, but also the needs of the places where there was likely to be the most rapid population growth. At present, we have four community based residencies and a rural training track. These programs are working in partnership with three health systems and one private practice to meet our mission of producing well-trained family physicians for Virginia. We currently have more than 1,400 graduates and 62% of these are practicing in Virginia.
We have made notable contributions to primary care research. This began with the establishment of the North American Primary Care Research Group, founded by Dr. Maurice Wood and whose first meeting was held in 1973, with no more than 50 attendees; the annual meeting now typically draws upwards of 1,000 primary care investigators from around the globe. Our Department served as the administrative home until 1995, and the NAPCRG annual award for lifetime achievement in primary care research is named after Dr. Wood.
The other seminal contribution in our early days was the so-called "Virginia Study"-(PDF Download) published in a special issue of the Journal of Family Practice in 1975. Authored by Drs. Marsland, Wood, and Mayo, this paper reported the analysis of over 500,000 patient encounters at family physician offices throughout the Commonwealth, thereby demonstrating the content of Family Medicine and serving as a guide to both undergraduate and graduate medical education in the discipline.
The early tradition of making important contributions by means of original research continues today, and several of our research faculty have earned national reputations for the quality of their work. The current portfolio deals with health services research and areas of interest include prevention, HIT, diabetes, primary care measures, and practice transformation.
We were invited to establish a clinical office on the MCV Campus 23 years after our founding; we opened our Nelson Family Medicine office in 1993. Dr. Tony Kuzel, who became the Department's third Chair in 2003, and Dr. Michelle Whitehurst-Cook, the SOM Senior Associate Dean for Admissions, have cared for patients there from the beginning. At about the same time, MCV Hospitals opened the Hayes E. Willis Health Center in south-central Richmond to provide access to primary care services in an underserved area of the city. Both of these sites now have social work and mental health professionals providing comprehensive, integrated primary care. Together these two clinics see approximately 24,000 visits annually and are important sites for our educational and practice-based research programs. We also now have administrative oversight of the family physicians who are part of MCV Physicians and who practice in community settings, in Richmond's West End at VCU Health at Mayland Medical Center. In July 2016, Dr. Steve Crossman became our Vice Chair for Medical Education and Clinical Programs and collaborates to ensure the successful operation of the MCVP primary care clinics. As a department, we want to ensure that we take great care of each patient we serve, but we are also passionate about helping achieve the triple aim of better health, better care, and lower costs for defined populations.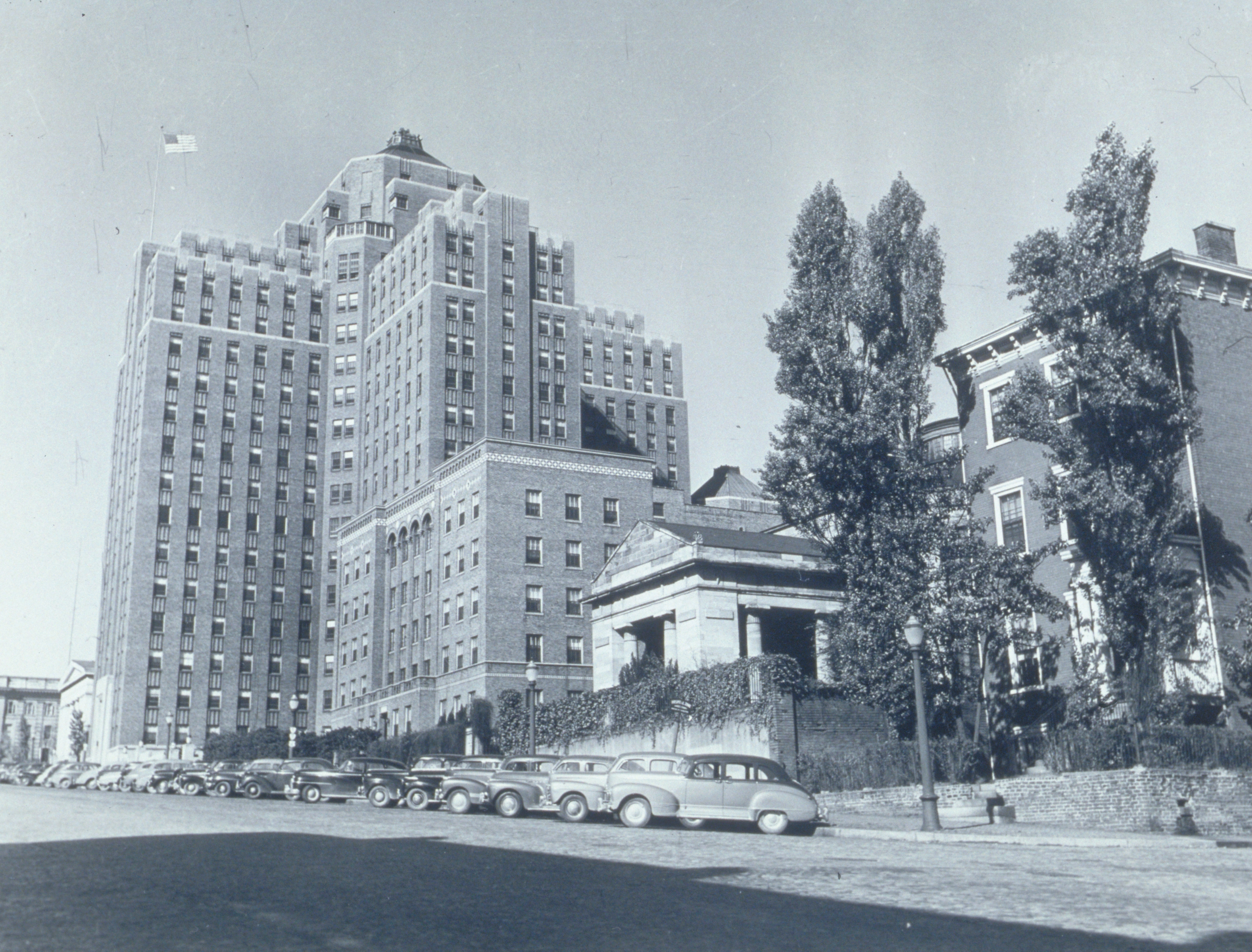 Initially, Family Medicine's only connection with medical students was through the family medicine interest group. Our earliest formal presence in the curriculum was the required community medicine clerkship which was coordinated by our department; it was primary care focused but not exclusively family medicine. This clerkship eventually became the required Family Medicine clerkship which has for many years been one of the highest rated VCU SOM clerkship and exceeded national clerkship rankings.
Our Medical Education Team has been consistently innovative. In 1998 we were awarded a HRSA grant to create the Inner City Rural Preceptorship (ICRP) Program which created a longitudinal honors program for selected students to focus on the particular needs of underserved patients and communities. An international component (I2CRP) was added in 2009 when Dr. Steve Crossman introduced global health educational opportunities into our educational programs. In 2010 the Family Medicine Scholars Training and Admission program (fmSTAT) was conceptualized. This dual admission program is specifically designed to attract, train, and retain a select group (8-10 student per year) who have an intention to become family physicians; it is a four-year longitudinal program that provides fmScholars with specific content, experiences, and mentorship to support their career goal.
In 2012, School of Medicine Dean Jerry Strauss asked Dr. Kuzel to assume the Chair of a second Department – Epidemiology and Community Health – with a goal of merging the two Departments. The combined faculty chose the new Department name of Family Medicine and Population Health and established a Division of Epidemiology. Achieving improved health status of a population and reduction of healthcare expenditures requires attention to public health issues as well as access to excellent primary care - an academic unit that has expertise in both areas can field educational, clinical, and research programs that demonstrate the synergy of integrating public health and primary care and can serve as a national leader in this area.
The Division provides the faculty for the Master of Public Health and Epidemiology PhD programs, and collectively our faculty members have an active research portfolio with a general interest in social determinants of health; specific areas of expertise include Genetic Epidemiology, Traumatic Brain Injury, Maternal and Child Health, and Cancer. Graduates of our MPH and PhD programs have a great track record of employment, and several of our PhD students have obtained prestigious post-doctoral fellowships.