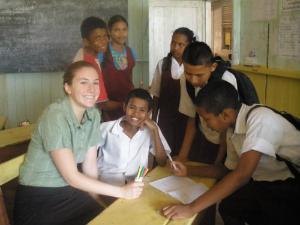 For two years before coming to medical school, I was in Mabaruma, Guyana. I was there as a teacher with the non-profit WorldTeach, but I quickly began spending every free minute after school in the hospital.
The Mabaruma Regional Hospital is more than just a place where people come with local emergencies — it is the only hospital within hundreds of miles and functions as the only place where communities along the Barima and Waini rivers can go for any type of health care.
I have lived most of my life in rural areas — I grew up in rural Virginia — but I had never seen extreme poverty like this. As I shadowed one of the hospital's two doctors in his daily rotations, it was the first time I'd been exposed to lack of medical resources that people in the rural developing world face.
I saw patients with malaria, tuberculosis and extreme malnutrition. I saw a 45-year-old mother give birth to her 19th child. A fish bone extracted from a child's foot by two random pieces of metal. A victim of a deadly snake bite. I saw a mother who walked alone at night through the jungle for three hours to reach the hospital. And then gave birth 20 minutes later.
Medical care in the developing world has extremely limited resources and almost non-existent infrastructure. It frustrated me. But it also lit a fire in me to return to those who are most in need of medical attention.
It was during those two years in Mabaruma that I applied and interviewed for medical school. I was living in a community of 200 people — seeing that same sort of close-knit community at VCU made it my top choice. I thrive in an environment that is engaged and supportive. I've been on the MCV Campus for two years now and have experienced the love and support from my classmates that I was hoping I would find.
I am involved in fmSTAT and I2CRP. Both programs have helped me develop my interest in rural family medicine, but in different ways. fmSTAT has provided conferences focused on family medicine topics and a mentor in Dr. Mark Ryan. He's been an amazing resource. We have a lot in common, and it's great to get personalized advice from someone who has gone through exactly what I am going though.
I2CRP has given me a better perspective on working with underserved patients. I completed both my M1 and M2 preceptorships with Dr. Melissa Bradner in Goochland at the free clinic. This placement taught me about the joys and struggles of working in a rural free clinic in the U.S.
In 10 years, I picture myself in a small family practice in a medically underserved community in the States — such as Appalachia — or abroad in a developing country. I envision myself building lasting relationships with local residents and helping to provide care for their entire family. I believe it's there that I can make the biggest impact for a needy community.
Even as an in-state student, I am taking many student loans for medical school, and already have some left over from my undergraduate education. So when I learned I'd received a scholarship I was ecstatic!
I spent the summer between my M1 and M2 year on an organic farm out in rural Colorado, with no internet access. I hadn't received a scholarship my first year and didn't expect one in my second. In fact, I actually didn't realize I'd been awarded one until I applied for my second-year loan money. When I saw a huge surplus in my account, I was confused and thought maybe I had taken out too much money. I went to the financial aid office and learned that there was no mistake! I was given a scholarship over the summer!
It is incredible that the medical school community — even after graduating — continues to give back and help current students. I chose to come here for the student support and community environment — which I experience with my fellow classmates on a daily basis. But it's amazing that the famous support lives on decades after graduation as well.
With permission from Suzanne Giunta, Class of 2016
To learn more about Suzanne's time in Guyana, visit her blog, Guyana 2010-2012!