The week of September 25, VCU Family Medicine celebrated National Advanced Practice Provider (APP) Week. We are so thankful to all of our APPs who provide care at our Family Medicine clinics throughout the Commonwealth!
In addition, VCU Health recognized the work of our Nurse Practitioners (NP), Physician Assistants (PA), Certified Registered Nurse Anesthetists (CRNA), and Certified Nurse Midwives (CNM) throughout the health system in various ways. On September 27 at the celebration and awards ceremony, Samantha Rothman, FNP (Downtown Family Medicine) was honored with a Leader of the Year Award. According to the awards committee, the Leader of the Year "...models clinical leadership within department or institution. Examples may include: strong teamwork characteristics, leadership within interdisciplinary teams, serves as strong role model for peers, serves as a mentor, may hold formal or informal leadership role within department or institution."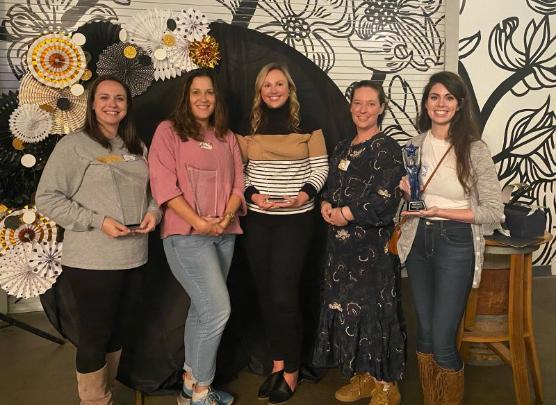 Sam Rothman, FNP (far left) and some of her fellow APP Award winners

Sam serves as the Lead APP for our department, and in that capacity, she serves as the liaison between our central department and the 12 APPs practicing in our 10 family medicine clinics in the Richmond area, the Tappahannock region, Williamsburg, and the South Hill area. In addition to this role as mentor, advocate, and role model for her fellow APPs, Sam provides support for the whole clinical team and thorough, thoughtful care to her patients at Downtown Family Medicine.
A special thank you to her colleagues in the department and at Downtown Family Medicine for their assistance with the nomination materials!
Congratulations, Sam!