In the fall of 2023, five second-year students enrolled in the International/Inner City/Rural Preceptorship (I2CRP) program were awarded the Health Care Equity Scholarship. The scholarship was launched through a generous private donation to support "the development of culturally competent physicians, who will make an impact in addressing disparities and promoting equity in health care." The donors have chosen to remain anonymous to highlight the aspirations and accomplishments of the students who receive the scholarship.
I2CRP is a four-year, longitudinal program for medical students who are invested in serving medically underserved populations. The mission of the program is to increase the number of students who choose careers in primary care or workforce priority specialties and who practice in rural, urban, and international underserved settings. 341 students have completed the program since 2000.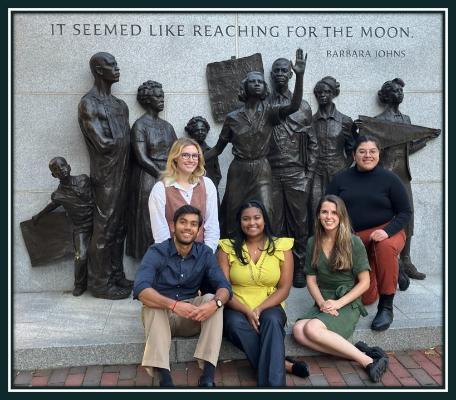 Sarah Cook, Sanyam Patel, Krishna Tejo, Rachel Fox, Jimena Castellanos
According to scholarship recipient Sarah Cook, "Ultimately my goal is to use my medical training and experiences in the I2CRP program to improve primary care by implementing community projects, initiatives, advocacy, and policies that combat health disparities and inequities."
Krishna Tejo, another scholarship recipient who is dually enrolled in I2CRP and the Family Medicine Scholars Training and Admission program (fmSTAT) noted that the scholarship "has afforded me the ability to pursue my dream of becoming a Family Medicine physician that can cater to underserved patients. This is because I am now able to access opportunities that allow me to directly work with and learn from physicians to develop strategies for patients that empower them to take control of their health despite barriers."
Dr. Mark Ryan, the Medical Director for I2CRP noted, "Since I2CRP was launched with the graduating class of 2000, the program has been successful supporting the professional development of skilled, caring, and dedicated medical students, and meeting the Department of Family Medicine and Population Health's mission of expanding primary care in our communities. Students face many barriers to pursuing primary care, with educational debt being an important consideration. I2CRP has worked to sustain and support students dedicated towards the mission of addressing workforce shortages, and this scholarship extends that support in a very tangible and meaningful way."
Congratulations Sarah, Sanyam, Krishna, Rachel, and Jimena!