At the recent American Academy of Family Physicians (AAFP) National Conference of Family Medicine Residents and Students, the VCU Student Family Medicine Association (SFMA) was recognized as one of the top family medicine interest groups (FMIG) in the country. It is the tenth time since 2007 that the VCU chapter has been honored with the overall Program of Excellence award. The VCU School of Medicine is one of just five schools in the country to have won the overall award 10 or more times.
FMIGs are student-run organizations that create opportunities for students to learn about and experience family medicine outside of their medical school curricula. FMIGs host social events, workshops, leadership development opportunities, community service and clinical experiences. These award-winning groups are breaking new ground with important initiatives such as starting pipeline programs for students who are underrepresented in medicine and serving their communities during the COVID-19 pandemic.
"The FMIGs we honor this year have gone above and beyond by activating students to put the knowledge they've acquired in the classroom into practice," said Clif Knight, MD, senior vice president for education at the AAFP. "These programs help students develop leadership skills that will serve them in their future practices and communities and provide opportunities to better understand the many vital roles that family physicians play in our health care system."
As Dr. Knight noted in his letter congratulating SFMA, FMIGs are highly valued by the family medicine community, and these student-led organizations become even more critical as the U.S. faces a growing primary care physician shortage. Increasing student interest and choice in family medicine is one of our nation's most pressing issues in creating an equitable health care system. At the national level, the American Academy of Family Physicians and seven other organizations in the family of family medicine have outlined an ambitious goal to have 25% of U.S. graduates choosing family medicine by 2030. FMIGs, having an immediate connection to daily student life and our esteemed educational institutions, are a critical component of the work that will go into seeing this goal through.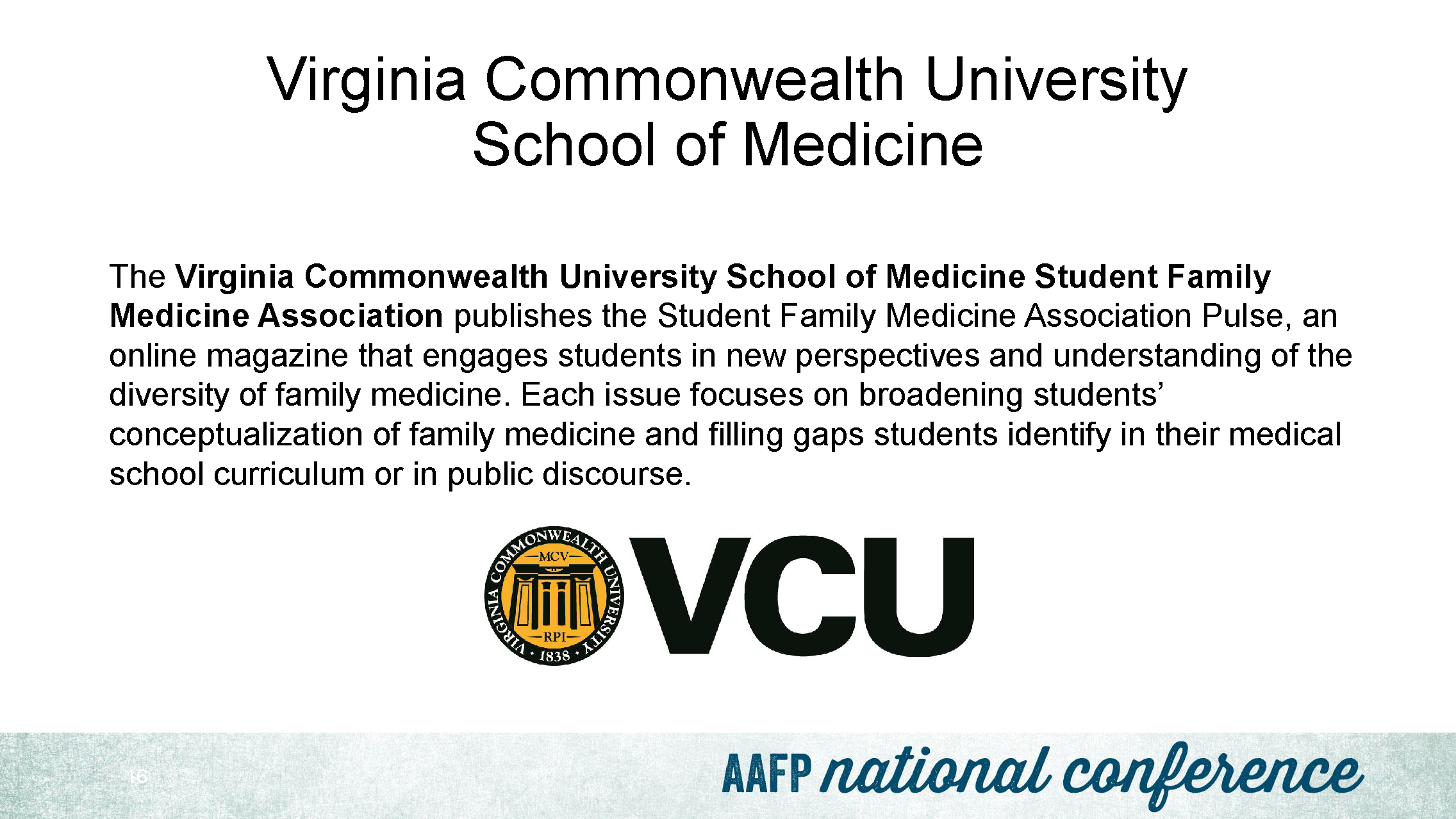 One aspect of program highlighted by AAFP was the SFMA Pulse; please see the SFMA section of our website for each month's issue. For more information, please contact Judy Gary, MEd, Assistant Director of Family Medicine Medical Education.
Congratulations, SFMA!