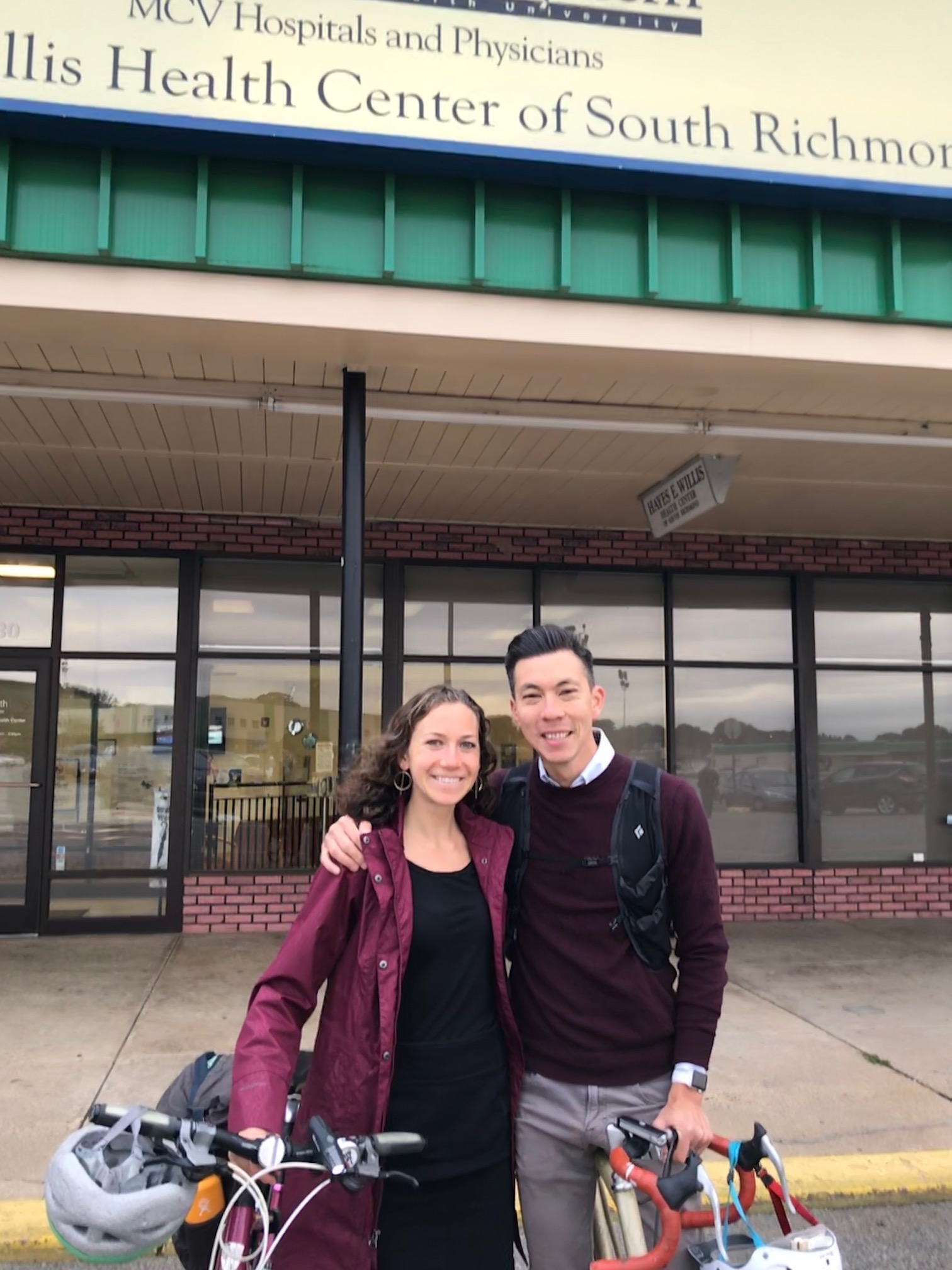 Dr. Giunta and her fiancé on her first day at Hayes Willis
photo courtesy of Suzanne Giunta
A few months back, Dr. Suzanne Giunta, M'16, became the newest family physician at Hayes E. Willis Health Center. A graduate of the Department's fmSTAT and I2CRP track programs, Dr. Giunta completed her residency at Swedish Family Medicine - First Hill in Seattle in June 2019.
What attracted you to VCU for medical school?
I honestly first was attracted to VCU because it was one of my in-state options. I had never been to Richmond before and didn't know anyone who had been to VCU so it was chosen essentially for location. However, when I came to interview, I found out about the fmSTAT program and was blown away by the friendliness of the family medicine department. I could "see" myself being supported and thriving on 14 West, with amazing opportunities offered by the fmSTAT and I2CRP programs. After I was accepted in October, I didn't interview anywhere else because I was sold!
Reflecting back on your time at VCU SOM, what was the value of the fmSTAT and I2CRP experiences for you?
These two experiences were invaluable. They offered me community within the medical school with my fellow students, outside the medical school with community practitioners, formal and informal mentorship. Really, they completely shaped my medical school experience. I was also able to travel a fair bit for rotations – from Blackstone for my family medicine rotation to the eastern shore for general surgery to Southwest Virginia for pediatrics to Northern Virginia for OB-GYN, which broadened my understanding of working with underserved populations in Virginia and gave me "real life" experience to round out my classroom teachings.
What drew you back to Richmond and to VCU Hayes E Willis Health Center specifically?
People. My family is from Virginia, and I wanted to be closer to them again. I also had such fond memories of the VCU FM department from medical school that I wanted to rejoin the VCU family as well. Hayes Willis stood out to me because of their mission to serve those on Southside, and the clinic director, Dr. Mark Ryan, was my former mentor in the fmSTAT program. I never actually did a rotation at the clinic while I was a medical student, but I trust that any clinic run by the FM department at VCU is a good place to be.
What are you most looking forward to in your work at Hayes Willis?
I am looking forward to continuing my relationship with the VCU FM department. From a former student to now faculty, I am excited to give back to the institution that formed my foundation for medicine. I am looking forward to teaching medical students, to beginning the FM department's Suboxone program, and to help start our LGBTQIA+ care.
What are your clinical interests?
Women's reproductive health, outpatient opiate use disorder/addiction medicine, and LGBTQIA+ care. These populations are medically underserved and practicing this medicine has led me to some of the most wonderful patient relationships. I've been honored to care for these populations and look forward to broadening VCU's FM department spectrum of care.
What is something you would like people to know about you that they may not already know?
I have bicycle commuted to school and work for the last 10 years. You might see me walking my bicycle through the waiting room if you're the first appointment of the day!
Welcome back to VCU, Dr. Giunta!