In July at the Virginia Academy of Family Physicians (VAFP) Annual Meeting, Denée J. Moore, MD, FAAFP, DABFM was installed as the 2023-2024 President. The 77th President of the Academy, Dr. Moore is a 2013 VCU SOM graduate, and she completed her residency training in 2016 at the VCU-St. Francis Family Medicine Residency program. She returned to her alma mater to serve as the M-3 Clerkship Director for Family Medicine, a role she has held since August 2020, and practice at the department's Hayes E. Willis Health Center.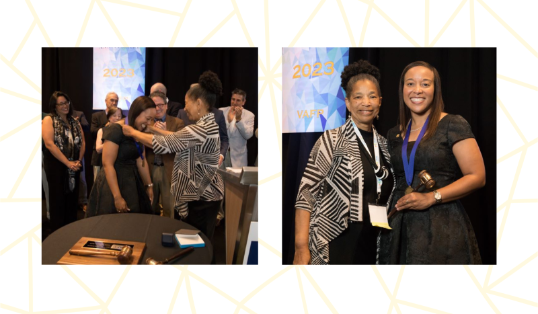 Dr. Denée Moore receives the presidential medal from Dr. Michelle Whitehurst-Cook
At the Annual Meeting in July, Dr. Moore was installed as President by VAFP Past President and VCU Family Medicine colleague, Michelle Whitehurst-Cook, M'79, H'82 (Riverside). In her first president's message, Dr. Moore introduced the pilot of the VAFP Family Medicine Practice Transformation Grant Initiative, which provides grant funding to support projects within family medicine practices that "enhance the patient experience or support the delivery of the highest level of care to patients."
Additionally, she reaffirmed the academy's commitment to medical student and resident members, attracting family physicians in all stages of their careers to choose Virginia, and advocacy at the state level for family physicians and their patients.
"It is an honor to serve as President of the Virginia Academy of Family Physicians," said Dr. Moore. "This organization has been pivotal to my development as a person, a clinician educator, and an advocate for patients, colleagues, learners, and the specialty of Family Medicine. During my time as President, I hope to partner with members of the Academy to generate solutions that: 1) streamline patient care, 2) reward physicians for improving health outcomes and the patient experience while delivering high quality care, 3) increase the number of physicians entering and maintaining a practice in the specialty of Family Medicine, 4) enhance patient safety, 5) integrate technology to advance care delivery, and 6) restore joy to the practice of medicine."
Congratulations, Dr. Moore!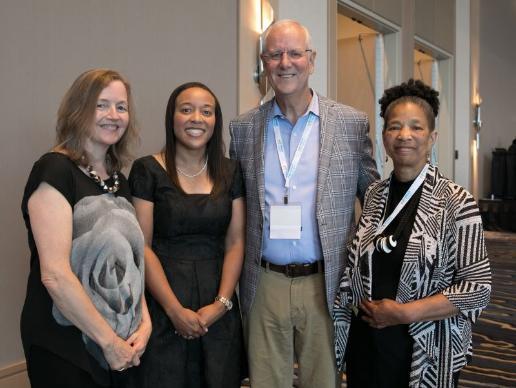 Family Medicine colleagues: Drs. Melissa Bradner, Denée Moore, Scott Strayer, and Michelle Whitehurst-Cook
all photos courtesy of the Virginia Academy of Family Physicians